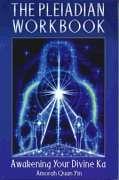 BBS Radio.com Broadcast Date Nov 17, 2006
Otherware (n) - "anything that activates, enhances or evolves the inner
technologies of the multi-dimensional human."
During this latest archived episode of Otherware, we're getting downright cosmic on yo' ass as I welcome Deborah Swann to the show. Deborah is a very gifted intuitive healer and teacher, and she facilitates Pleiadian Lightwork Training courses here in Melbourne, based on the channelled healing techniques dispensed by the Pleiadians in "The Pleiadian Workbook - Awakening Your Divine Ka" by Amorah Quan Yin, who was the channel for the information.
http://www.amorahquanyin.com/

I've wanted to do a whole show about the Pleiadian teachings since the it began in late 2005, and just a few weeks prior to this interview, I completed Level 1 in the Full Sensory Perception course, with Deborah as our group's instructor. It was one of the best experiences of my life, and for the others in the course. I guess you could say my "otherware" has definitely been upgraded, and I am still downloading!
At any rate, I am still amazed at how my abilities to perceive reality on a multi-dimensional level have opened up for me. Now I'm more convinced than ever that we call ALL do this; that it is part of our blueprint
and all we have to do to unlock these talents is find the right ways for us to make that happen.
Pleiadian Lightwork Training is just one of those ways.

Whether you are familiar with the Pleiadians or not, I know you will find this show absolutely fascinating. You may even learn a technique or two!

Hope that you all will leave a comment to let me know what you think. Liz x